SSgt Bruce A. Lockhart U.S Air Force
(1965-1969)

PLEASE DESCRIBE WHO OR WHAT INFLUENCED YOUR
DECISION TO JOIN THE AIR FORCE?

In April of 1965, I was a 20 year old
kid, living alone, pumping gas for a living, having no skills and no idea how to
proceed. Watching the news about the war in Vietnam made me realize that maybe I
could contribute. At just about that time, I received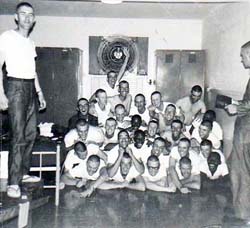 my pre-induction physical examination notice. This certainly helped my
decision making quite a bit. Did I want to be drafted into the Army, having zero
skills? I'm not a coward, but neither am I stupid. Infantry was not what I had
in mind.

My brother had recently been discharged from the Navy and
warned me of an "ass kickin" from him if I joined the Navy, and the Marines were
totally out of the question (I was a skinny kid and knew I'd never be able to
keep up with what they required). I thought I would love the Air Force, but
doubted I would qualify. My options were now dismal. I made my mind up to talk
with an Air Force recruiter, and as they say, the rest is history.


WHETHER YOU WERE IN THE SERVICE FOR SEVERAL YEARS OR AS A CAREER,
PLEASE DESCRIBE THE DIRECTION OR PATH YOU TOOK.

4/29/65 through
6/16/65: 3724th Basic Military Training Squadron, Flight 490, Lackland A.F.B.
San Antonio, Texas (Basic Training); Airman Basic.

6/17/65 through
9/14/65: 3355th Student Training Squadron, Chanute A.F.B. Rantoul, Illinois
(Technical Training-Jet Engine Mechanic-Pratt/Whitney J-57); Airman 3rd
Class.

9/15/65 through 11/30/65: 3345th Technical Training Group, Chanute
A.F.B. Rantoul, Illinois, Jet Engine Instructor Training; Airman 3rd Class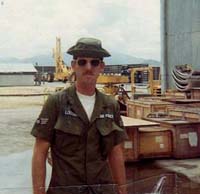 11/30/65 through 11/30/66: 3361st Instructor Squadron, Chanute
A.F.B. Rantoul, Illinois, Technical Instructor of Jet Engine Training; Airman
2nd Class.

12/1/66 through 5/27/68: 3525th Field Maintenance Squadron,
Williams A.F.B. Chandler, Arizona, Jet Engine Shop (teardown ).General Electric
J-85 engines for Northrup T-38 Talon and F-5 Freedom Fighter Aircraft; Airman
1st Class -Buck Sgt.

5/28/68 through 6/18/68: 3750th Technical Training
Wing, Sheppard A.F.B. Wichita Falls, Texas-- Jet Engine training (helicopter
application).General Electric T-58 and Solar T-62 Auxiliary Power Units; Airman
1st Class - Buck Sgt.)

6/26/68 through 6/29/68: World Airlines flight
from Travis A.F.B. San Francisco, California to Tan Son Nhut A.B. Saigon, South
Vietnam; Airman 1st Class-Buck Sgt.

6/30/68 through 10/15/68: 20th
Special Operations Squadron, Nha Trang A.B., Nha Trang, South Vietnam worked in
Jet engine Shop, General Electric T-58 Jet Engines; Airman 1st Class-Buck Sgt.


10/15/68 through 4/16/69: 20th Special Operations Squadron, Udorn
R.T.A.F.B. Udorn, Thailand, worked in Jet Engine Shop/Flightline as maintenance
and engine repair and replacement on Sikorski CH3C/E Helicopters; Staff Sergeant
and Jet Engine Shop NCOIC

TDY-1/30/69---10 days-Don Muang A. B., Bangkok.
Maintenance support (test) and ferry aircraft to Udorn.

TDY-3/21/69---7
days-Don Muang A.B., Bangkok. Maintenance support (test) and ferry aircraft to
Udorn.

4/17/69 through 4/18/69: World Airlines flight from Don Muang
A.B., Bangkok, Thailand to Travis A.F.B. San Francisco for debriefing and
discharge.

DID YOU PARTICIPATE IN COMBAT OPERATIONS? IF SO, COULD YOU
DESCRIBE THOSE WHICH WERE SIGNIFICANT TO YOU?

I was in the 20th
Special Operations Squadron. Our mission was combat search and rescue, casualty
evacuation, relocation and support of communication sites, and engagement in
counter insurgency.

By design, being an engine technician, I was not a
crew member on any of our aircraft but I had the
good fortune to fly with crew members across the Mekong River
into Laos on a number of occasions.

While I was stationed at Udorn Royal
Thai Air Force Base, we had two situations and one tragedy. I don't recall the
date, but one of our CH-3e's approached one of our Lima sites in Laos which had
been taken over by the enemy during the night. One aircraft took numerous rounds
(later to be numbered at 287.) Fortunately, no one was injured and the aircraft
returned safely.

On Feb 20, 1969 as several of our CH-3e's were on a
mission in Laos, one, (Pony Express 16/Tail #63-09682) developed an oil system
failure. They were forced to land and leave the aircraft behind, taking crew and
equipment with them. When they returned with replacement parts and repair
equipment, the aircraft had been destroyed by the enemy. Later, I saw an aerial
photograph of the wreckage and all that remained was a charred black spot and 5
rotor blade tips.

The tragedy happened on Jan 17 1969. Pilot Major
Walter Wesley Martin, Co-Pilot Captain Richard Alan Fleming, Flight Engineer
Staff Sergeant Albert Jackson (Jack) Davis, and three civilians lost their lives
when their CH3e (Pony Express 20/Tail #62-12582 ) Jolly Green Giant helicopter
went down at a TACAN Lima Site 36 at Na Khang, Laos after experiencing small
arms fire while landing. The aircraft rolled over the side of a hill, tumbled,
and exploded. Three Airmen survived. Jack Davis and I were friends.


OF ALL YOUR DUTY STATIONS OR ASSIGNMENTS, WHICH ONE DO YOU HAVE
FONDEST MEMORIES OF AND WHY? WHICH ONE WAS YOUR LEAST FAVORITE?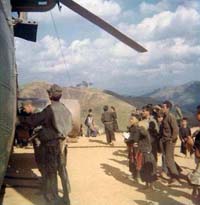 The 20th Special Operations Squadron, specifically at Udorn,
was special. This was a wonderful group of men who all bonded with one purpose
in mind: to do the very best they could in support of our involvement in the
Vietnam conflict. It is my opinion they did an incredible job in thwarting the
insurgency of the North Vietnamese coming through Laos and Cambodia and I am
honored to have served with them.

I remember that in January of 1969,
the Pony Express moved more than 5000 Laotians on 539 sorties from a village on
a 4,700 foot high mountain in northern Laos, where they had been threatened by
approaching Communist forces. The mission required hauling drums of fuel to the
site so that those helicopters could be refueled without having to fly back to
our base in Thailand to saved time and possibly lives. This was all done with
difficult early morning fog, hazardous mountain terrain, and no offensive or
defensive military escort.

FROM YOUR ENTIRE SERVICE CAREER WHAT
PARTICULAR MEMORY STANDS OUT?

I had enlisted anticipating a tour in
South Vietnam, but after spending almost 3 years of my enlistment still in the
states, I went to administration and put in a request for a S.E.A. (Southeast
Asia) assignment. I realized they would need to expedite the request for me to
get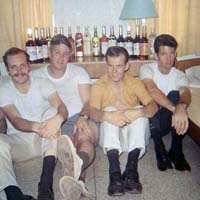 my last 12 months overseas. It wasn't approved until early May
of 1968. I had but 11 months left on my enlistment, yet they still let me go. At
that particular time, as I remember, the Air Force was giving early outs of up
to 1 year, at assignment changes. I am extremely grateful for the opportunity
they gave me and the experience of that tour.

When I rotated back to the
U.S. and began my debriefing and separation process, not certain that I actually
wanted to re-enlist, I expected to be offered some incentive to stay, and based
on that, I'd make up my mind. Having no wife/girlfriend waiting, no employment
prospects whatsoever and returning an E-5, I felt I was ahead of the curve and
likely would be far better off staying on. No one ever spoke to me about
re-enlistment. In fact, they were in such a hurry to get rid of me they said
they couldn't give me my final physical and dental examinations, and that I
should check with a local VA once I got settled and they never told me that I
could collect unemployment compensation when I got home. So, it appeared to me
that the Air Force found no value in me, so I quit.

Hindsight being
20/20 however, I have many regrets. As I browse through so many profiles of men
who stayed and made a career of the Air Force, it saddens me that I wasn't one
of them. I enjoyed military life; the structure, discipline, pride, and
camaraderie, and I was good at it. I am not bitter, just disappointed.


IF YOU RECEIVED ANY MEDALS FOR VALOR OR AWARDS FOR SIGNIFICANT
ACHIEVEMENT, PLEASE DESCRIBE HOW THESE WERE EARNED.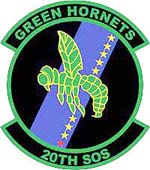 The 20th Special Operations Squadron was awarded the
Presidential Unit Citation and the Air Force Outstanding Unit Award w/Valor. As
I was stationed with the 20th S.O.S. in both Vietnam and Thailand, these awards
were given to me for each location. While I was never in combat, our flight
crews experienced considerable danger on each and every mission into Laos. These
awards were for their efforts, and their risk, and as a member, I am very proud
to have been honored with them, and of being a part of this fine
organization.

OF ALL THE MEDALS, AWARDS, QUALIFICATION BADGES OR
DEVICE YOU RECEIVED, PLEASE DESCRIBE THE ONE(S) MOST MEANINGFUL TO YOU AND
WHY?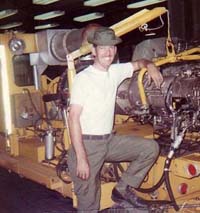 The answer I gave in the question above comes from the heart.
Those awards are very special. Having said that, they are Unit awards, given to
an organization for their dedication, commitment, and bravery. I am so honored
to have them, but, I was simply a member "in the rear, with the
gear."

Four months after I was discharged, I received notification that I
was awarded the Air Force Commendation Medal for Meritorious Service during my
tour with the 20th Special Operations Squadron in South East Asia. This
recognition makes me proudest, as it is an individual award, based on my
accomplishments.

WHICH INDIVIDUAL(S) FROM YOUR TIME IN THE MILITARY
STAND OUT AS HAVING THE MOST POSITIVE IMPACT ON YOU AND WHY?

I had
four men who had an impact on me.

First, a fellow Airman and friend,
Richard F. Kaiser. I met him in Tech.Training in June of 65 and we became fast
friends. Each new assignment I got, he got. We were together until I left for
Vietnam in May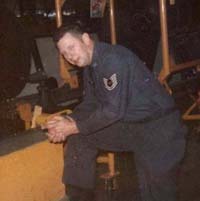 of 68. He eventually went to the Philippines. I was discharged
in April of 69, and he in June. He flew down to Los Angeles from Travis to visit
with me before going home to Geneva, New York. Unfortunately, we lost contact
over the years. I've tried to regain contact, but without success.


Secondly,Tech Sergeant Donald E. Daly was next. When I was retained at
Chanute for Instructor duty, he kind of took me under his wing(me and Richard)
and nursed us along until we could stand on our own.

Thirdly, one of my
superiors at Chanute, Bill Tarpley. He was always friendly and helpful as I
struggled along.

And lastly was a guy named John Carpenter (Tech Sgt.)
at Williams. Again a superior, who I relied upon to get me through my concerns
and doubts, both professionally and personally. I ran into him again,
accidentally, at Udorn, Thailand, and although he was not in my squadron, he
tried his absolute best to recruit me into his squadron. Great guy.


CAN YOU RECOUNT A PARTICULAR INCIDENT FROM YOUR SERVICE WHICH MAY OR
MAY NOT HAVE BEEN FUNNY AT THE TIME, BUT STILL MAKES YOU LAUGH?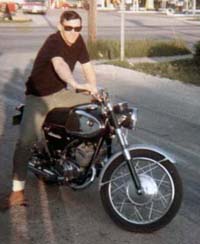 When I was at Chanute (permanent party) I bought a motorcycle.
When orders eventually came sending me (and Richie Kaiser, who had been my
friend through Tech. School, Instructor School, and a year of Instructor duty)
to Williams A.F.B., Chandler, Arizona. Richie and I rented a U-Haul trailer to
carry all our gear, and the motorcycle, to our next destination. After getting
established at Williams, Richie bought the same motorcycle as mine, just a
different color.

We would ride all over central/southern Arizona and on
occasion, raced one another. He never had a chance: he just couldn't beat me.
Eventually we began going to Phoenix Drag Strip to do our racing. I don't recall
how many times we raced, but I have photographs of him holding ALL the trophies,
HIS trophies. I could NOT beat him on the drag strip, yet never lost "off" the
drag strip. He would laugh and laugh and remind me who was king.

WHAT
PROFESSION DID YOU FOLLOW AFTER YOUR MILITARY SERVICE AND WHAT ARE YOU DOING
NOW? IF YOU ARE CURRENTLY SERVING, WHAT IS YOUR PRESENT OCCUPATIONAL
SPECIALTY?

When I was discharged, I went home to Albuquerque, NM to
see my folks. As I mentioned previously, not being told that I could apply for
Unemployment Compensation, I had to figure out what I was going to do. Six
months before I came home, I had my dad send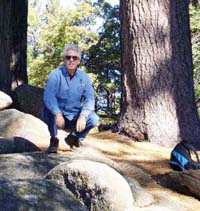 out resumes to airline and aircraft companies in an effort to use my
jet engine experience in the private sector. However, without an A&E
(aircraft & engine) license, they had no interest. It would take a couple of
years of schooling to get the license and I needed to find a job right away. I
bought a car with what I had saved, and I headed to Southern California where I
lived when I enlisted.

I found an inexpensive motel and started looking
for work. Firestone Stores was looking for a tire man in Santa Monica. I was
hired and eventually became a salesman, a credit manager, an assistant manager,
a store manager, and finally, a district retail sales manager (supervisor of 12
retail locations). That took 12 years to do. Unfortunately, I was never very
content or happy with any of it and finally left.

I found an opening
with the Dept. of Agriculture, the Forest Service, on a fire engine crew and
eventually a timber crew. I loved it, but, it was a seasonal job. Again, it
would take schooling to become permanent. So I took a test for the United States
Postal Service, and became a letter-carrier. I did that for 28 years until I was
forced into retirement in April 2009 because of the National Reassessment
Program (the result of two Lumbar surgeries due to an on-the-job injury).


WHAT MILITARY ASSOCIATIONS ARE YOU A MEMBER OF, IF ANY? WHAT SPECIFIC
BENEFITS DO YOU DERIVE FROM YOUR MEMBERSHIPS?

I am an associate
member of Rotorheads (rotorheadsrus@yahoo.com).

Jim Henthorn's Vietnam
Veterans Page.

I found these websites while looking for history on the
20th S.O.S. The benefits are merely informative.

IN WHAT WAYS HAS
SERVING IN THE MILITARY INFLUENCED THE WAY YOU HAVE APPROACHED YOUR LIFE AND
YOUR CAREER?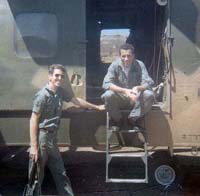 The military taught me self-sufficiency, respect, loyalty, and
honor. I learned that I'm not owed anything, and everything is possible through
will, determination, and effort.

In my opinion, I believe military
service should be mandatory for all able bodied men. The experience of basic
training certainly separates an individual from any dependency upon someone
else.

BASED ON YOUR OWN EXPERIENCES, WHAT ADVICE WOULD YOU GIVE TO
THOSE WHO HAVE RECENTLY JOINED THE AIR FORCE?

I have no advice, only
gratitude. Every military man or woman I see, I approach and thank for their
commitment , their generosity, and their service.

IN WHAT WAYS HAS
TOGETHERWESERVED.COM HELPED YOU REMEMBER YOUR MILITARY SERVICE AND THE FRIENDS
YOU SERVED WITH.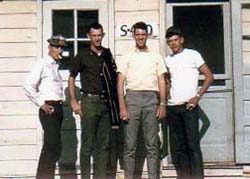 I thank you right up front for your contribution to America's military
men and women. I enjoy so much looking at the profiles of other Airmen and their
experiences and accomplishments. I have found several Airman that I was
stationed with, and thousands who have shared my experiences and I theirs. I
could sit day and night visiting all their profiles, but my wife won't let me.
Whipped!