WHAT DOES THIS HAVE TO DO WITH OBAMA?
IT'S ALL PART OF THE NWO PLAN TO DESTROY OUR NATION
Media reports say Kazakhstani leaders have been promoting their plan behind closed doors in Washington in recent weeks, and that US officials are seriously mulling the possibility. To advance the process, Kazakhstani Senate Speaker Kasymzhomart Tokayev on April 7 invited US President Barack Obama to visit Astana. The two met briefly on the sidelines of the Alliance of Civilizations forum in Istanbul. "The speaker underlined that Kazakhstan remains committed to the policy of the non-proliferation of nuclear weapons and related material, as the results of recent talks in Astana with Iranian President Mahmoud Ahmadinejad testify in particular," the Senate press service said.
ILLUMINATI CAPITALS : ASTANA.,SUN WORSHIP,LUCIFER WORSHIP
Astana (Kazakh: Астана; former names include Akmola, Akmolinsk, Tselinograd and Aqmola), is the capital and second largest city (after Almaty) of Kazakhstan, with an officially estimated population of 750,700 as of November 2008. It is located in the north-central portion of Kazakhstan, within Akmola Province, though politically separate from the rest of the province.
The current mayor of Astana is Imangali Tasmagambetov. He was appointed on April 4, 2008.
THIS GUY IS A CROOK
Imangali Nurgaliuly Tasmagambetov (Kazakh: Иманғали Нұрғалиұлы Тасмағамбетов; Russian: Имангали Нургалиевич Тасмагамбетов [Imangali Nurgaliyevich Tasmagambetov]) (born 9 December 1956) is the current mayor of Astana, Kazakhstan. From December 2004-April 2008 he served as the mayor of Almaty. Before that he served as the Prime Minister of Kazakhstan from 28 January 2002 to 11 June 2003.
Tasmaghambetov said he resigned after finding out about the falsification of a positive vote of confidence in his administration, taken on 19 May, 2003. His resignation resulted in the dismissal of all members of his cabinet as instructed in the Constitution of Kazakhstan.
Kazakh President Nursultan Nazarbayev replaced Tasmaghambetov with Pavlodar Oblast Governor Daniyal Akhmetov on 13 June, 2003. Akhmetov pledged to maintain many of Tasmaghambetov's policies.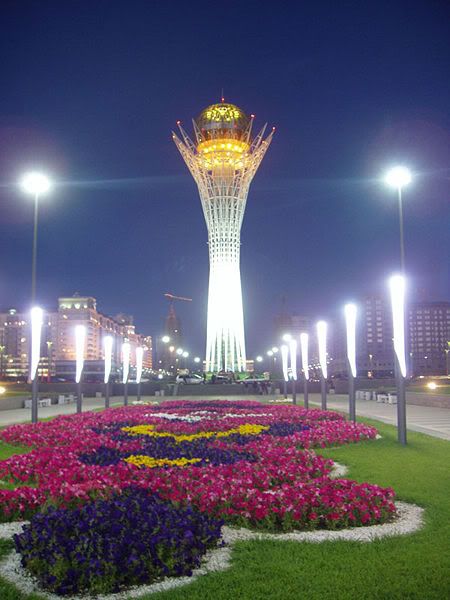 The monument is meant to embody a folktale about a mythical tree of life and a magic bird of happiness: the bird, named Samruk, had laid its egg in the crevice between two branches of a poplar tree. The 105m structure consists of a narrow cyllindrical shaft emeshed in flaring white branch-like girders, widening toward the top (the "tree"), where a gold-mirrored 22m-diameter sphere (the "egg") containing the obsevation deck is supported.
The altitude of the deck is 97m, symbolizing the year of the capital-transfer to Astana (1997). From its height it is possible to see much of the newly built city. The viewing platform features a gilded hand print (Alakan) of the right hand of Nursultan Nazarbayev, the first President of the independent Republic of Kazakhstan. An accompanying plaque suggests that visitors place their own hand in the imprint and make a wish; when one does so the Kazakh national anthem plays. In addition to the observation platform, the tower contains a large aquarium and an art gallery.
Astana citizens jokingly refer to Bayterek as "Chupa Chups" because of its similarity to the famous lollipop